Important question of the day, brought to you by Fox News: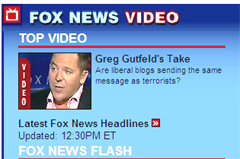 "Are liberal bloggers sending the same message as terrorists?"
At first, I thought this was funny, the same old, inane "if you disagree with me, you're my sworn enemy" bullshit. But I actually watched part of the clip (yeah, turned it off halfway), and can't believe anyone buys this nonsense. The argument is "the terrorists and Iran are all saying that the defeat of the Republicans is because Americans are against the war in Iraq, and the liberal bloggers are saying that too!!!! Therefore it is clear that Atrios and Kos want to kill and torture Americans. There is no other conclusion.
I imagine everyone sees the logical fallacy there. Two strangers making a similar statement does not mean that those two people are similar, or that they share any other opinions than that one. Further, two people making similar factual (or probable) statements does not mean that there are any similarities between those two people at all. But Fox wants to muddy up those crystal clear waters, and they do it so blatantly. It's like they're spitting in our faces and saying it's rain.
But it's even a little worse. The clip opens with the Fox News host implying that the electoral repudiation of warhawk policy will make the terrorists think that America is softer and therefore ripe for plunder! What have we done? Oh save us, brave Fox News team!
And for some reason, they chose to interview a conservative blogger on this topic, who in his opening sentences, admits that he didn't know who the leader of Iran was until just moments ago. They really couldn't find someone, y'know, competent?
I get so tired of this. Just because someone disagrees with your political opinions doesn't mean that he wants to slaughter innocent civilians by the score.
[graphic stolen from Crooks and Liars]
3 Comments »
I believe that the "terrorists" get what they want every time a conservative a-hole tries to divide this country the way Bush, Cheney, Rove, and their slimey mouthpieces have every time they say that "a win for the Democrats is a win for the terrorists."

Comment by Redleg — November 13, 2006 @ 11:12 am

jake. man, ive been reading shit like this all week…people posting quotes of what terrorists are saying about the election, and then spewing this nonsense. bad logic.

it's an extension of the whole "if you disagree with anything that's being done in this war you must be a traitor."

nothing like good old fashioned black and white thinking. geezus.

Comment by ryan anderson — November 16, 2006 @ 4:37 pm

you know it's a grim state of affairs when stuff like this doesn't even surprise me anymore. seriously. i don't even bat an eye. for more musings of a nonprofit intern, check out www.youngerwomenstaskforce.blogspot.com
RSS feed for comments on this post.
Leave a comment
Line and paragraph breaks automatic, e-mail address never displayed, HTML allowed: <a href="" title=""> <abbr title=""> <acronym title=""> <b> <blockquote cite=""> <code> <em> <i> <strike> <strong>