Deprecated
: preg_replace(): The /e modifier is deprecated, use preg_replace_callback instead in
/home/lyingmed/lyingmediabastards.com/wp-includes/functions-formatting.php
on line
83
Somehow, I saw very few of the "God Bless America/Support Our Troops" faux-ribbon car magnets when I lived up in LA, but saw an explosion of them when I moved down to San Diego (understandable, as there are many military bases in this county).
They're mostly based on the identification that so many Americans feel with their nationality, and with the brilliant and insidious "Support Our Troops" phrase that Washington spin doctors invented during the Gulf War. "Support Our Troops" literally means "make efforts to help US soldiers who are currently at war", but usually translates into "I support the current war and you should to". And "Support Our Troops" people usually interpret any disagreement with the phrase as "I hope we lose this war", "I hate our soldiers" or "I hate America". Most of this takes place at a gut level, of course.
Due to the fact that this symbolism and rhetoric is a trap, I heartily endorse mocking the fuck out of it.
I feel that this one nails the situation pretty well: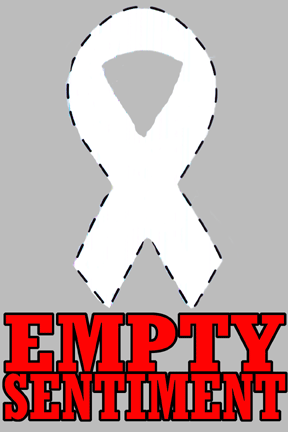 And this one does a good job of skewering those with more superficial motives:
And now of course, there are websites that let you make your own parodies. I feel you could get a nice jolt with some creative juxtaposition. Like this one I created:
Feel free to email me or post in comments with ideas for some nice counter-ribbons.
14 Comments »
RSS feed for comments on this post.
Leave a comment
Line and paragraph breaks automatic, e-mail address never displayed, HTML allowed: <a href="" title=""> <abbr title=""> <acronym title=""> <b> <blockquote cite=""> <code> <em> <i> <strike> <strong>